WHILE CLEANING OUT YOUR GUTTERS! You can clean out your gutters in your swim suit, if you want, considering we are in the PNW it might be a good idea to take full advantage of our limited sunshine! Remember to wear some SPF if your winter legs have not seen the sunshine since last year! #nojudgement
Why do you need to clean out your gutters?
Overflowing gutters or leaky gutters cause moisture issues, rotting fascia boards, siding, rafters and window trim. By cleaning out the gutters you are saving serious $$ avoiding replacing all your window trim and fascia boards. Plus if you are thinking about selling in the next couple years and your house is one a first time buyer may purchase with an FHA or similar government loan, you, the seller will need to replace those items prior to selling in order for the loan to be approved.
Leaky gutters can also allow water to pool by the foundation causing mold, damaged foundation and other big issues. These items would most likely need replacing prior to the sale of your home. Those are spendy fixes.
If water is just sitting in a clogged gutter full of wet leaves, your roof will start to rot in the areas around your gutter. Rot spreads. Do you want to replace your roof much sooner than you should have to? I didn't think so. Clean out your gutters!
Cleaning out your gutters is of the most affordable care items to help maintain your house, FREE if you do it yourself of under a couple hundred dollars to hire out. I have a few great referrals for gutter care if you don't feel comfortable cleaning them yourself, you don't want to end up like this guy: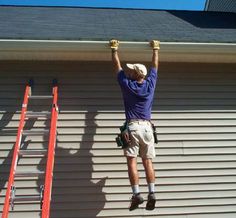 Enjoy the summer sunshine! Remember you can contact me if you have any questions on easy home care items if you are considering selling your home in in the near future.
Best,
Real Estate Broker
Windermere Real Estate